Last fall, I wrote a series of blog posts about my encounters with literary England and Wales. My trip to Austria and the Czech Republic this spring was less literary, not because those countries haven't produced great literature – Kafka is integral to Prague and Goethe, while German, travelled everywhere.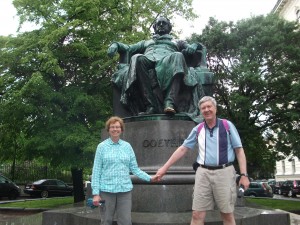 But, in general, writers from middle Europe aren't part of my literary tradition, so I didn't seek them out.
Normally, my blog posts relate, in some way, to writing. But it's summer and I've just returned from a long trip. So I'll relax my standards and blog about my travels, inserting literary matters as they happen.
Our first day in Vienna, we encountered a major one, although we didn't know it at the time.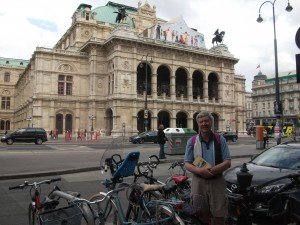 Tired from our over-night flight, under overcast skies, we set out on a walking tour of central Vienna, with Rick Steeves' Kobo tour as our guide.
At a park featuring statues honouring the Holocaust, the sky looked ready to burst. We ducked under the adjascent Mozart cafe's huge awning and spent an hour drinking cappucino (me) and beer (Will) while watching the deluge. We later learned that Graeme Greene wrote his novella The Third Man at the Mozart Cafe. The story, set in post World War II Vienna, was later filmed in the city.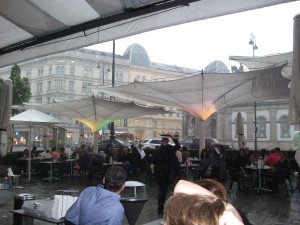 The Britsh Film Institue judged The Third Man the best British movie of the twentieth century. According to Wikepedia, Greene wrote the novella with the movie in mind (he later wrote the screenplay), which shows that books written from movies aren't always slight.
Now that I'm home, I look forward to watching The Third Man again for the Vienna landmarks, like the Wiener Riesenrad (or Prater) ferris wheel. A few days into the trip, we considered riding the giant wheel after our bike ride through the Prater park. But the skies opened once again and sent us pedalling to shelter.