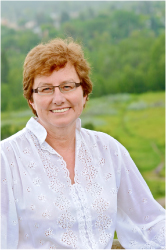 Susan Calder grew up in Montreal and moved to Calgary in 1996. Her first novel Deadly Fall was published in March 2011 by TouchWood Editions. Deadly Fall launches a murder mystery series set in Calgary and featuring sleuth/insurance adjuster Paula Savard.  The sequel, Ten Days in Summer, was released in January 2017 by BWL Publishing Inc.
Susan has a degree in Urban Studies from Concordia University and worked as an insurance claims examiner. She came to writing twenty-five years ago and honed her craft at Concordia University, the Alexandra Writers' Centre Society, the Banff Centre for the Arts, The Sage Hill Writing Experience and Booming Ground. At Mystery Writers' INK and the Calgary Citizens' Police Academy, she learned about crime, police work, guns, poisons and assorted ghoulish matters useful to mystery writing.
Susan's short stories and poems have won contests and been published in Other Voices, Alberta Views, The Prairie Journal and the Silver Boomers Anthology. Her award-winning Alberta Views story appears in Writing Menopause anthology (Inanna Publications), due for release in spring 2017. Her story When a Warm Wind Blows Off the Mountains, published in December 2016 by Loft on Eighth, is currently being produced as an art book. She serves on the board of When Words Collide Festival for Readers and Writers and is a past president of the Alexandra Writers' Centre Society, where she teaches courses and workshops on writing fiction, mystery, dialogue and revision.  She is also a member of the Writers' Guild of Alberta and Crime Writers of Canada. When she's not engaged in writing and related activities, Susan is likely to be travelling or hiking.    
Meet Susan at the following events:
Thursday, Sept 21, 2017, 7:00 pm Single Onion Readings Series. Susan reads from her short story featured in Writing Menopause Anthology.
October 12 – 15, 2017 Bouchercon World Mystery Convention. Sheraton Centre, Toronto
Thurs, Oct 12, 12:40-1:00 pm she'll do a presentation in the Sheraton VIP room. Meet Susan Calder. A signing follows at 2:00 pm in the Osgoode Room.
She'll be the moderator for the panel on Urban Noir, Fri, Oct 13, 10-11 am, Sheraton Centre, Toronto, followed by a signing in the Osgoode Room.
Friday, October 13, 2017, 7:00-8:00 pm. Speaker: How Hoarding Inspired My Murder Mystery Novel. Toronto Public Library, S. Walter Stewart Branch, 170 Memorial Park Ave, Toronto, ON. Free. Drop-in. No registration required. For more information phone 416-396-3975.  www.torontopubliclibrary.ca
Saturday, Oct 14, 8:30-9:30 am and 1:30-3:30 pm, she will be in the Bouchercon Reception Room, sponsored by Crime Writers of Canada. From 7:00-8:00 pm she will be outside the Sheraton ballroom signing copies of the Bouchercon 2017 Anthology: Passport to Murder.
Past Events:
August 11 – 13, 2017 When Words Collide Festival for Readers and Writers. Delta South, Calgary:
Mass Autograph Session, Sat  8-10 pm, hotel ballroom
She'll also be on the following panels:
Beyond Traditional and Self-Publishing, Fri 3 pm, Fireside room, Tower Building
Aging Series Characters, Sat 10 am, Parkland room, Tower
The Mystery of Mysteries, panel, Sat 12 pm, Bonavista room, Tower
Absolute Mystery Basics, panelist/moderator, Sat 3 pm, Willow Park room, Tower
Fragility & Mental Illness Within Story, Sun 2 pm, Bonavista room, Tower
The Thrill of the Smoking Gun, Sun 3 pm, Parkland room, Tower
Thursday, July 13, 11:30 am – 2:00 pm, Indigo TD Square, 317-7th Ave. SW, Calgary tel: (403) 263-7333
Saturday, July 15, 2017 1:00 pm – 3:00 pm Chapters Chinook, Chinook Mall, 6455 Macleod Trail, Suite L1
Readings and Events:
Thursday, June 29, 2017, 7:00 pm. Memorial Park Library, 1221 2nd St SW, Calgary. Stampede Reading and Discussion. Local writers Susan Calder, Kris Demeanor, Emily Ursuliak and Aritha Van Herk read from their books about the Calgary Stampede and discuss controversies surrounding Calgary's annual wild west festival.  Host Shaun Hunter.
Thursday, July 6, 2017, 9:00 – 11:00 am. Shelf Life Books, 1302 – 4th St. SW, Calgary. Annual 4th St, Pancake Breakfast Showdown.  Come on down to meet Susan and vote for the best pancakes made by 4th Street merchants.
►   Learn about Deadly Fall and 10 Days in Summer
►   Read Susan's BWL Author Interview.
►   Read her interview with Christina Hamlett
►   Read Susan's short stories in the anthologies:  Writing Menopause, Coast Lines 1 & 2 and AB Negative
►   Links
►   E-mail susan@susancalder.com