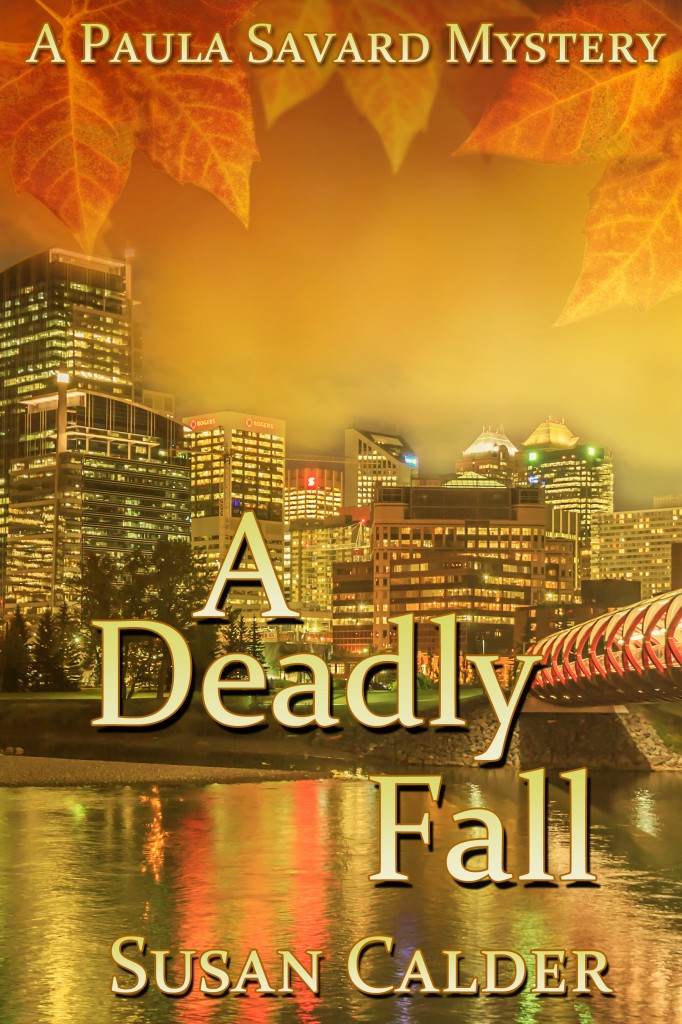 Paula Savard's life has stalled. Her lukewarm love life, job as an insurance adjuster and grownup children are more frustrating than exciting. However, she gets more than she asked for when her once best friend, Callie, is murdered while jogging to Paula's inner-city Calgary home. The police suggest Callie was coming to Paula for help, which is news to Paula since they hadn't seen each other in ages. Soon, Paula's suspicions zero in on Callie's new husband, Sam.
An ill-considered investigation turns personal for Paula when she begins to get close to Sam, but is Sam's interest a front to trick Paula? Lies begin accumulating. Suddenly, Paula's not sure who she should protect and who she should fear. As the truth reveals itself, Paula hatches a plan to draw the killer out. The plan's success would not only allow her to solve the murder, but also give her life a fresh start.
Book # 1 of the Paula Savard Mystery Series
---
---
The Hamilton Spectator
Deadly Fall: A Paula Savard Mystery by Susan Calder
A pointedly nuanced debut novel, Deadly Fall sparkles with tone and energy that set the pace, a concise storyline, and edgy dialogue that moves the story forward.
Paula Savard is a divorced insurance adjuster with grown children and a new home. She's reshaping her life at mid-term. A friend, apparently on her way to see Paula, is found dead on a jogging trail not far from Paula's home.
"None of us has alibis … at six thirty in the morning everyone's either alone or sleeping with someone who'd lie for them." That sums up Paula's increasingly cobwebbed investigation: the lies pile up, relationships grow uncomfortable, dead ends galore, all the while Paula's need to solve the murder grows urgent.
Deadly Fall is a debut worth reading and a possible series with insurance claims providing a mine field of potential stories.
Don Graves – Hamilton Spectator.
---
Mysterious Reviews
Deadly Fall by Susan Calder
When Paula Savard's friend Callie is murdered, Paula's dull life quickly becomes a whirlwind of excitement in Deadly Fall, the first mystery in this series by Susan Calder.
Paula had received a voice mail a few days ago from Callie, who suggests they get together and catch up. Paula, who hadn't heard from Callie for years, hadn't gotten around to returning the call yet … but is shocked to learn that Callie had been murdered before dawn while walking down a path in Paula's neighborhood. She's even more surprised when the police consider her a "person of interest". As if that made any sense. The authorities don't seem to be making any progress in the case, so Paula, as an insurance adjuster, who knows how to ask questions, begins her own investigation into the murder. Who would have a reason to kill her? Her husband? Her ex-husband? Her step-son? Ignoring the police advice to back-off, she's determined to identify her friend's killer on her own terms.
Paula is an intelligent, determined, often critical (though in a good way) yet still compassionate amateur sleuth, who is front and center in this mystery debut. Indeed, the murder investigation often seems to be secondary to everything else going on in Paula's life. She's a solidly developed character, one readers will want to get to know better, with an interesting supporting cast, which should serve her well in subsequent books. With possibly a new profession in hand, and her first case behind her, readers will look forward to seeing how she fares with a more challenging mystery to solve.
Mysterious Reviews – Special thanks to guest reviewer Betty for contributing her review of Deadly Fall.