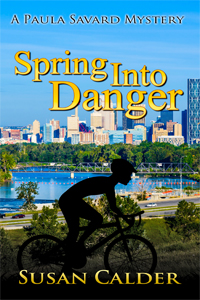 In spring 2020, the pandemic shuts down Calgary. Paula Savard's insurance adjusting firm struggles to survive. Shaken by her last encounter with murder, Paula vows to stay away from all suspicious death cases.
After thieves break into a store and steal two bicycles, a psychic phones Detective Mike Vincelli and urges him to bring Paula onto the case to save someone's life. Mike offers Paula an opportunity—the new burglary claim.
Paula scoffs at the psychic's prediction. She investigates the burglary, and slowly becomes aware of the psychic's hidden motive for wanting her involved. Evidence leads Paula to suspect the store is a front for illegal activities. She worries a child is at risk. A murder draws Paula in deeper. To save an innocent life, Paula abandons her plan to stay safe and she leaps into danger.
Is this the thrilling conclusion to the Paula Savard mystery series?
---
Purchase Spring Into Danger today!