Will and I arrived at  Coleridge Cottage jet-lagged and exhausted from our sleepless night on the plane from Calgary to Gatwick, England. To rest up from the trip, we spent the first two nights in the Somerset countryside en route to Wales.  A visit to a nearby home once occupied by the poet Samuel Taylor Coleridge seemed a simple activity for our first day.
Like most of our generation, Will and I had both studied Coleridge's poem The Rime of the Ancient Mariner in school.  I'd also taken a course in Romantic Poetry at university and  was so smitten by Colerdige's poem Kubla Khan that I still recall many lines by heart.
In Xanadu did Kubla Khan
A stately pleasure-dome decree :
Where Alph, the sacred river, ran
Through caverns measureless to man
Down to a sacred sea.
Okay, according to Wikipedia I got the last line wrong. It's sunless sea. Was that a Freudian slip?
My university professor portrayed Colerdige as eccentric, largely due to an opium addiction. He told us Coleridge once published a poem previously published by a fellow poet and claimed it as his own work.  This wasn't an attempt at plagarism; Coleridge was too out-of-it to know what he was doing.
In 1797, when Coleridge went into debt, a patron/friend offered him the small cottage in Nether Stowey, Somerset.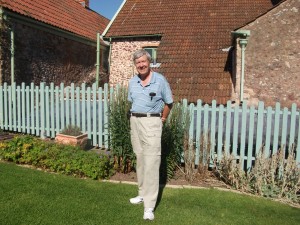 Coleridge moved into the then five-room house with his wife and son.  To save money, they grew their own vegetables and fruits in the generous back yard, which you can still wander through. My guess is that Sara Coleridge did all the farm work, while her husband went for long walks in the hills, wrote poems and entertained friends, including fellow poet William Wordsworth and his sister Dorothy.
Tragedy struck when a second son died as a result of a rubella vaccine. Coleridge left Sara to deal with her grief alone while he travelled to Europe. The family moved out of the cottage after three years, taking their furnishings with them. The British Naitonal Trust has refurnished the cottage with period pieces like ones the Coleridges might have had at the time. As you go through the house, volunteers answer questions and fill you in on the details of Coleridge's life. Upstairs, there's a reading room with a collection of his works you can read or listen to on audio sets and a hands-on room where you find out what it's like to write with quill pen (not easy).  After my tour, I enjoyed my first pot of tea in Britain at the museum cafe.  I might have had a beer at the Ancient Mariner pub across the street, if I wasn't worried the drink would put me to sleep.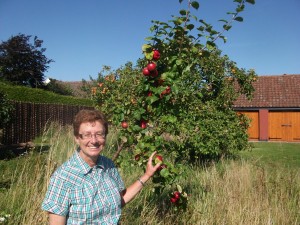 Coleridge's short stay at the cottage was a productive time. During these three years, he created some of his most famous works, including Kubla Khan and the Rime of the Ancient Mariner. The only line I remember from the latter poem is one usurped by Nestle for a 1960's T.V. commercial.
Water, water everywhere and not a drop of Quik.