Will and I wrapped up a rainy day in Vienna with a visit to the Sigmund Freud museum, housed in the former apartment/office of the father of psychoanalyis. A self-guided audio tour took us through Freud's residence, office waiting room, treatment room and den where he wrote his numerous psychology books. Not much remains of Freud's original furnishings. He brought most with him to England when he left Vienna in 1938 to escape Nazi persecution.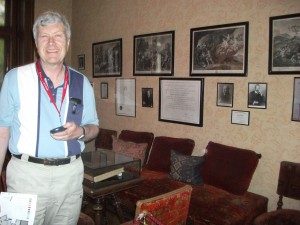 The tour included home movies narrated by Freud's daughter, Anna. Scenes showed Freud relaxing with his dog in the garden of a house he rented one summer in Grinzing, in the Vienna Woods north of the city.  The pleasant, family activies were followed by shots of downtown Vienna during the Anschluss, in March 1938, when Austria joined Nazi Germany. The massive, cheering crowds and giant swastika flag suggested Freud was wise to leave when he did.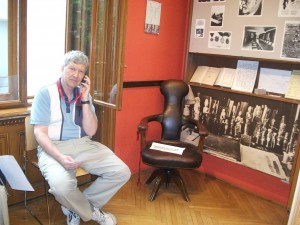 The next day, our last in Vienna, we toured a palace/museum featuring art by Gustav Klimt. From the gardens, we viewed the hilly Vienna Woods. Through our week in the city, I'd been tempted by the woods' romance due to the title of the famous Johann Strauss' waltz Tales From the Vienna Woods. We stayed away, figuring the woods were just trees, like I could see at home, and bound to be disappointing. With decent weather and the major Vienna sites under our belts, we decided to go anyway.
The bus travelled through Grinzing, now absorbed into the greater Vienna as an upscale suburb. The driver let us out at the end of the line. We walked uphill through forest broken by glimpses of the city below. Since any kind of viewpoint looked too far out of our reach, we were all set to catch the bus down when another bus came roaring up. It turns out that only some buses stop a little past Grinzing while others go to a large parking lot at the top the highest hill in Vienna. We followed people to a restaurant, cafe and deck with spectacular views of the city. Enjoying our pricey beer, we ducked in and out of spitting rain.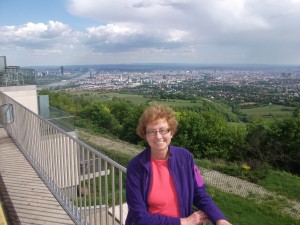 No dout this viewpoint is packed on warm, sunny weekends. This marginal, week day it was quiet and one of the high lights of our Vienna trip. Had the weather been better, we'd have walked down to Grinzing on a trail through open meadow. Instead, we missed stopping in the historic village centre on our bus ride back to the city.
If I return to Vienna, and have a beautiful week day, I'd spend it in the Vienna Woods, hiking through paths to this panoramic lookout and Grinzing.