This June, after our Toronto visit, Will and I flew to Moncton for two weeks of vacation that involved sightseeing, hiking, kayaking and visiting relatives in New Brunswick and Maine. One relative was my aunt Edith, who turns 96 this month.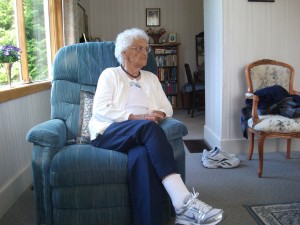 Aunt Edith was born in England. Her family immigrated to St. Andrews, NB, when she was ten.  She grew up and met my father's brother, Charles (Chick). They married and settled in Fairhaven, his home fishing village on Deer Island, NB.
During our conversations with Aunt Edith,  we got to talking about Will's and my planned trip this fall to Britain. Edith mentioned that she came from a village near Haworth, home of the literary Bronte sisters Charlotte, Emily and Anne. Some 100 years ago or more,  Edith's aunt came into possession of an umbrella owned by Charlotte Bronte. She passed the umbrella down to Edith.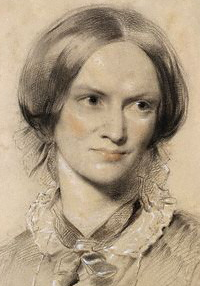 The Bronte Society operates a museum in Haworth that hosts an annual festival of women's writing and displays costumes and other memorabilia that belonged to the famous sisters. Aunt Edith wants the museum to have Charlotte's umbrella and has been in contact with the muesuem curator.  They know the umbrella is authentic because the museum has the knob missing from the top of the umbrella in Aunt Edith's possession.
The museum curator was so eager to get the umbrella that he planned to go to London to pick it up from a friend of Aunt Edith's who was travelling there. Unfortunately, someone mentioned this British customs, which refused to let the umbrella into the country because its handle was made from material that is now banned – ivory.
Aunt Edith's grand-daughter-in-law is working on getting around the importation ban. If, one day in the future, you visit the Bronte Parsonage Museum and see, among the artifacts, Charlotte Bronte's umbrella with an ivory handle and repaired knob, think of how that umbrella journeyed to Canada and back via Aunt Edith.