Here's a feel-good blogging story for the Holidays.
In August, I wrote a blog post about Charlotte Bronte's umbrella owned by my aunt in New Brunswick. Aunt Edith has been trying for years to get the umbrella to the Bronte museum in Haworth, West Yorkshire, UK. Her efforts have been stalled due to the umbrella handle being constructed of ivory, a banned substance.
A few days after the post, I was surprised to receive an e-mail from Julie Akhurst on behalf of the Bronte Parsonage Museum. My post had appeared in their Google Alert for anything remotely connected to the Brontes. Julie said the staff had read my account with fascination and remembered the case clearly. The person who was dealing with it at their end left shortly afterwards and the correspondence lapsed. They were now keen to revive it. Could I put them in contact with my aunt?
I e-mailed my aunt, who got in touch with Julie. The two are now occupied in sending correspondence and forms back and forth and the museum is dealing with government departments. It turns out that my aunt had the umbrella examined by a local expert, who determined the handle substance was bone, not ivory. This kind of bone is not a banned or restricted animal substance, which means that the parasol can be sent without a CITES license. The umbrella will, as Aunt Edith puts it, go home where it belongs.
The museum's interest got me curious about exactly how my aunt came into possesson of the umbrella, which, it seems, is more accurately a parasol.
Here's Aunt Edith's explanation:
My parents were born in Oxenhope, a
village connecting to Haworth. My grandparents and aunts lived there.
Auntie Eleanor (b. 1899-d. 2001) had the Bronte parasol given to her by the Bronte housekeeper. I don't know when that was but Eleanor was quite young. In the mid 20th century she gave it to my sister Anne who lived in R.I. U.S.A. After Anne died in 2004 I inherited it.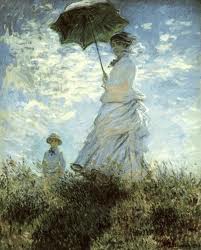 Julie Akhurst says she'll keep me posted on the museum's progress.  She thanked me for my helpful post and added that, without it, the parasol would have been forgotten.
I expect the parasol would have made it to the museum eventually, but I'm glad to be part of the story.
Happy Holidays to everyone. I hope that you, like Charlotte Bronte's parasol, make it home, if not literally, then in your heart.