Published Works
I've published 10 short stories in magazines, and anthologies. My short story, Three Wishes, was broadcast on CBC Radio's Alberta Anthology. These are a few of my favourite stories:
"When a Warm Wind Blows Off the Mountains," a short story published in Long Lunch/Quick Reads Anthology (2016) and turned into an art book by artist Sylvia Arthur. The art book is on permanent display in the Calgary Central Library, in an alcove off the 4th floor Great Reading Room, along with 11 other collaborations. On Jan 24th, 2020, the library launched the Print(ed) Word documentary, which features the twelve artist/writer partners discussing their experiences with the project. Here's Sylvia and I talk about how we worked together. For a taste of all the works, have a look at the documentary movie trailer.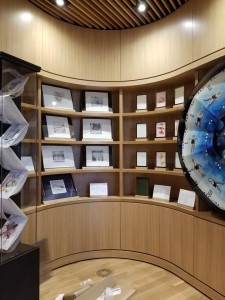 "Adjusting the Ashes," winner of the 2003 Alberta Views Short Story Contest. The story is reprinted in the anthology, Writing Menopause.
"Zona Romantica," about a woman on the run in Mexico, published in the anthology, Passport to Murder.
"Freezer Breakdown," short story in Coast Lines, and "The Question," short story in Coast Lines 2, anthologies published by the Puerto Vallarta Writers Group. "Freezer Breakdown" is reprinted in AB Negative: An Anthology of Alberta Crime.
I have published five poems. In August, my haiku won the 2020 Lougheed House Summer Haiku Contest. "Two metres apart" was inspired by the historic Lougheed House, my neighbour's garden, and life in Calgary during the coronavirus pandemic.
You can read other published short stories below:
► "Grand Jeté" Other Voices magazine, Short Story Contest winner, 2007
► "Last Watch" On Spec Postcard Story Contest, second place, 2006
►   "Bested" Storyteller magazine, Great Canadian Story Contest honorable mention, 2004
---
Blog Posts
►   I recap my journey to a book contract (part 1 and part 2) and my experience of being edited (part 1 and part 2).