Calgary has enjoyed one of its best summers in memory. Many July and August days were sunny, warm and, sometimes, hot. This made me long to be outside as much as I could. Summer here is too short to scrimp on fresh air, walking, biking, hiking, local festivals and reading in my back yard.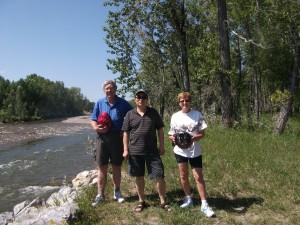 The problem is that this cuts into my writing time. When my children were young, this wasn't so bad. We took our major holidays in the summer and I had most of the rest of the year to write while they were in school. Now that they're grown up and Will and I no longer have to travel in the high season, we tend to go away during the shoulder seasons and sometimes in the winter to escape the cold. This mean that if I don't write during the summer, I won't accomplish much over the course of the year.
So, how have I managed to optimize my writing and outdoor time this summer? I haven't managed very well, but, in the end,  I feel satisfied with both.
One trick was to do some writing outside. I didn't find this ideal due to glare on the computer screen and, perhaps, not being in my usual working environment. I liked outdoor writing better for computer work that requires less focus than my novel-in-progress, such as checking e-mails and facebook, Internet research and writing blog posts like this one.
A few days, when I woke up early, instead of lying around in bed, I went to my computer to write before the day warmed up. Even on some days that I slept in, I applied the work first, play later approach. As a result, I spent some lovely mid-mornings outside, relaxing over coffee, breakfast and the newspaper. Morning is such a fresh time of day, especially in Calgary, and clouds and mosquitoes are more likely to appear as the day progresses.
As a result of forcing myself to write, I completed my target of finishing the third draft of my novel-in-progress by September. Yay. Due to a number of changes I made, I still need to do another run-through this fall before the manuscript is ready to hit the world.  I'm hoping that revision will be an easier project, with fewer distractions, like inviting weather.