Thank you, Susan, for swapping blogs this week. I hope your readers will hop on over to the J.Q. Rose blog to read your post about what inspired you to write your new novel, Ten Days in Summer, a sequel to your first murder mystery,  Deadly Fall.   A lucky commenter will win a copy of Susan's e-book.
To enter the drawing to win an eBook of my romantic suspense, Dangerous Sanctuary, all you have to do is post a comment about the following blog on my Facebook  J.Q. Rose Author Page, on my J. Q. Rose Author blog, or on Susan's Ten Days in Summer page on Facebook. The deadline to enter the draw is Tuesday, June 20, 10:00 pm EDST.
Dangerous Sanctuary is on the Kindle Countdown special this week! Grab your copy at a reduced price!
My Inspiration for the Romantic Suspense Novel, Dangerous Sanctuary by J.Q. Rose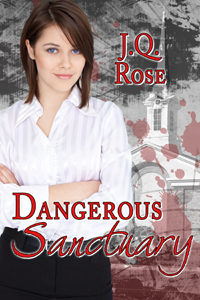 The main character in Dangerous Sanctuary is a female pastor, Pastor Christine Hobbs. People often ask what inspired me to write a book featuring a woman pastor.
Actually the spark of the story was ignited after I interviewed a female pastor for my non-fiction book for middle-grade girls, Girls Succeed: The Stories Behind the Careers of Successful Women. I was intrigued with the pastor's story about her entry into the ministry at a time when it was typically a man's career. When she discovered women were making breakthroughs into becoming ordained ministers in a few denominations, she worked hard to achieve her dream of becoming an ordained minister. She succeeded in earning her Master of Divinity Degree at Yale University Divinity School and was ordained by the General Conference of the Mennonite Church in Pennsylvania.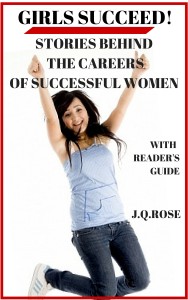 At the time I interviewed her she was the District Superintendent of the West Michigan United Methodist Church Conference. She was responsible for sixty-nine United Methodist churches and their pastors. Her devotion to God, her determination, and her great experiences inspired me. I was honored to share her journey to success with young girls. Today, Pastor Laurie is a bishop in the United Methodist Church.
That same year, a woman pastor was assigned to our local church. I learned even more about being a woman pastor from her e.g. no one tells a male pastor he's wearing cute shoes! With these two exceptional role models, I created the character of Pastor Christine Hobbs.
Since I'm a mystery writer, Pastor Christine had to be one of the murder suspects. What a juxtaposition to have the good pastor accused of such a horrendous crime. Having a female pastor as the main character in a cozy mystery would offer interesting  situations for readers to keep them turning the pages. I also wanted to explore the controversy over allowing women this leadership position in a church.
Pastor Christine is a strong, smart woman, the kind of main character I like to read and write about in my stories. Having a pastor as a main character is not unique, but a female pastor does put a different twist to the story.
Tagline for Dangerous Sanctuary by J. Q. Rose: Pastor Christine Hobbs never imagined she would be caring for a flock that includes a pig, a kangaroo, and a murderer.
Back of the Book:  Pastor Christine Hobbs has been in the pulpit business for over five years. She never imagined herself caring for a flock that includes a pig, a kangaroo, and a murderer.
Detective Cole Stephens doesn't want the pretty pastor to get away with murdering the church music director. His investigative methods infuriate Christine as much as his deep brown eyes attract her
Can they find the real killer and build a loving relationship based on trust?
Available as an ebook and paperpback at Amazon.
http://amazon.com/dp/B01MQIFQFI
ABOUT JQ: After writing feature articles in magazines, newspapers, and online magazines for over fifteen years, J.Q. Rose entered the world of fiction. Her published mysteries are Deadly Undertaking and Dangerous Sanctuary released by Books We Love Publishing. With her non-fiction book for girls, Girls Succeed! she returns to her first love, writing about real people.  Blogging, photography, Pegs and Jokers board games, and travel are the things that keep her out of trouble. She spends winters in Florida and summers up north camping and hunting toads, frogs, and salamanders with her four grandsons and granddaughter.
Connect with J.Q. Rose online at the J.Q.Rose blog