My fellow BWL author, Janet Lane-Walters, invited me to visit her blog today. See Janet's blog for my answers to the following questions, which I have asked Janet.
Question 1.  Welcome Janet. Tell us readers, what were you in your life before you became a writer? Did this influence your writing?
I think I always was an aspiring writer but what I loved as a teen was doing non-fiction papers. Then I became a nurse, trained at a hospital school in Pittsburgh, Pa.
I continued writing non-fiction papers except the  teachers said I put in too much about the families, physical descriptions of them and their homes that weren't necessary to the papers. That must be where fiction began to creep in. I worked as a nurse, got married and had children. During this time I began to write and have persisted to this day. First published in 1968 with a short story.
2 Are you genre specific or general? Why? I don't mean genres like romance, mystery, fantasy etc. There are many subgenres of the above.
I am genre general. I've tried many forms of romance and also dabbled in cozy romances. The romances fall into medical, paranormal – mostly fantasy but some are alternate world and reincarnation. There may be a bit of mystery thrown in with the romance and sometimes a bit of paranormal creeps in. I also have a fantasy series for Young Adults that contains a lot of suspense. There are a couple of non-fiction books with my name attached. One won an EPIC award as the best of 2003.
3. Did your reading choices have anything to do with your choice of a genre or genres?
Reading has definitely slanted my writing. I read just about anything except horror and preachy inspirationals. Horror creeps me out a lot.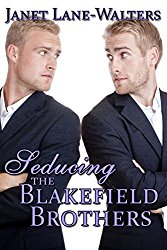 4. What's your latest release?
My latest release – Two double books with one more to come. Seducing the Blakefield Sisters and Seducing the Blakefield brothers. They're short, spicy romances.
5. What are you working on now?
Right now, I'm working on the fourth of the Opposites In Love series – The cancer-Capricorn Connection and revising a reincarnation novel Past Betrayals; Past Loves. Also trying to update a lot of books for BWL press. I've done a number but there are more to go.
6. Where can we find you?
http://janetlanewalters.com/home
https://www.facebook.com/janet.l.walters.3?v=wall&story_fbid=113639528680724