When my first writing instructor, Denise Roig, assigned us to write an article for a newspaper or magazine, I instantly lit on The Montreal Gazette. I was an avid reader of the newspaper's travel section, being a keen traveller now spending most her time at home with two young children. The travel editor, Paul Waters, wrote a weekly column that I especially enjoyed. He often shared personal details about himself, his wife and their six children.
The previous summer, my husband and I had travelled with our sons to Alberta. We arrived in Calgary the last day of the Stampede and went to the rodeo and fairgrounds. We loved them. I'd had no idea an event this huge was happening out west and wondered if other Montrealers were equally in the dark.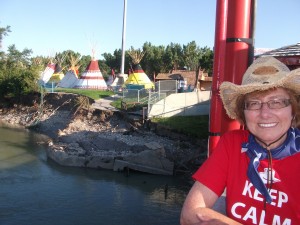 For my course assignment, I wrote a travel piece about the Calgary Stampede, describing the rodeo and other fairgrounds activites we'd liked and mentioning the many more we'd missed because we hadn't allocated enough time. I then drafted my query letter, which was a challenge, particularly the paragraph explaining why I should be the one to write this article when I had no writing credits or other qualifications. In the end, I suggested a story angle about a family visit to the Stampede.
Denise, my instructor, edited the article and added a note that she could see it in The Gazette. Her main comment about my query letter was to change the last paragraph so it wouldn't sound like the article was already written. For non-fiction, you pitch and write later or you'll never make money.
With some confidence, I mailed my query letter to Paul Waters and waited for a reply. Several months passed. I grew discouraged. One night I went out to a parent and school committee meeting and returned to find a sign on my front door. Congratulations! My husband told me that Paul Waters had called and wanted me to phone him back that evening.
I phoned right away. Paul said he was interested in the piece. What sold him was the family angle. "Most writers I hear from are yuppies," he said. He suggested I add a few additional points that I'd already included in the piece. He'd pay $300, but had to ask me to write it 'on spec.' From taking the magazine writing course, I knew what that meant.
I touched up the article and sent it to him. A few weeks later it appeared on the travel section's front page. This writing business would be a snap, I thought. My decision to become a writer was right.
Over the next couple of years, I pitched Paul three more travel pieces. Rather than send a query letter, I waited for an excuse to call him. Typically, this involved a glitch with the newspaper sending my payment cheque. "And by the way," I'd add, "would you interested in an article about …"
Like the Stampede article, two of the others were the front page travel feature of the week. The fourth, a shorter one, was on the back travel page. It was about The Fundy Isles, where I spent my summer holidays as a child and visited regularly after that. My cousin who lives there said this was her favourite of my articles. 'Europe with Children,' the last one I wrote, was likely the best of the four. I found 'Atlanta: Progress is her Middle Name" the hardest to write, as I struggled for a connecting theme. 'The Calgary Stampede' was special because it was my first. I had no idea when I wrote it that I'd move to Calgary a few years later.
I also had no clue that my writing road that had started out so well would become rocky.