In Wales, we stayed near Hay-on-Wye Hay-on-Wye (pop. approx. 1,500). Sometimes called "town of books", Hay-on-Wye has over 30 second-hand bookstores and hosts an annual international literary festival.

We were in southern Wales to hike and only made it into Hay twice, both times toward the end of the day after most of the bookstores had closed. Too bad. I could have spent hours browsing the varied shops, some general, others specializing in genres like detective fiction, natural history, maps and out-of-print childrens' literature.
While many of the stores are in traditional buildings along the town's main streets, the two I browsed were open-air style. Books filled shelves, protected from rain by an overhang. No one manned these stores. You simply took the book you wanted and dropped the appropriate coins into a box. The books were randomly ordered. You had to comb through old textbooks and others of minor appeal to find a classic novel or recent bestseller. This gave the store a rummage sale flavour and the prices were rummage sale, as well – about 75 cents to $2.00 per book. It wouldn't surprise me if second-hand dealers from the rest of Britain and Ireland make regular trips to Hay-on-Wye for good deals they can sell at a markup.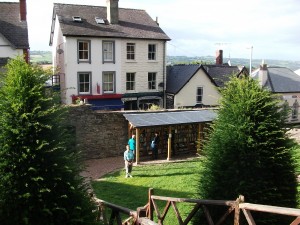 My quick search of the stores' shelves unearthed John Irving's A Prayer for Owen Meany. I bought it to read for the rest of the trip and thoroughly enjoyed it.
On second thought, it's probably good that I didn't have too much shopping time in Hay-on-Wye. How would I have fit all the books I'd have wanted to buy into my suitcases?