My sister was named for the title character in R. D. Blackmore's classic novel, Lorna Doone. For that reason, when Will and I were in Exmoor National Park this fall, I was eager to drive through Doone Country, which inspired the story.
That is, I was eager for Will to drive. This was our second day of car travel in England and I was finding it scary enough to be a passenger. Even Will, normally a confident driver, was stressed by having to drive on the left-hand side of those narrow country roads hemmed in by hedges with no shoulders.
Lorna Doone tells the tale of a family of robbers and cuthroats named Doone, who pillage and attack the peaceful villagers and farmers living near Doone Valley. The murderous leader of Doones kills the father of the novel's narrator and hero, John. One day, John wanders into Doone Valley and meets Lorna, the niece of the robber leader. Despite her upbringing, Lorna is gentle and good and, of course, beautiful. John and Lorna fall in love, but must meet in secret. I don't know what happens next. I tried to read the book when I was a child, but, despite the story's dramatic appeal, couldn't get through the dense, old-fashioned prose.
The turnoff into Doone Valley from the main road was poorly marked. We overshot it, but doubled back and found ourselves winding down the narrowest and steepest road in England that we had encountered so far. Sections with overhanging trees added "Doone-ish" atmosphere.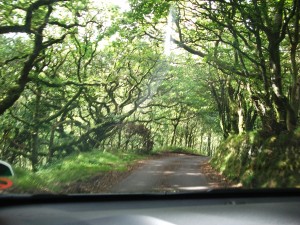 The whole time down, we prayed we wouldn't encounter an approaching car. Whenever we did, one of us had to back up to the nearest road widening and squeeze tightly to the hedge to let the other vehicle could pass. We feared the hedge or passing vehicle would rip off one of our side mirrors.
In short, our feelings echoed the terror of the locals in Lorna Doone when they ventured  through the wicked Doone Valley. It was like a theme park ride.
With great caution, we edged our car across Robber's Bridge without scraping the sides on the stone walls, continued on the road and crossed the second, equally narrow bridge to Malmstead, which consisted of a gift shop, cafe and campground. From Malmsmead, hiking trails set off along the river and up the hills dotted with sheep.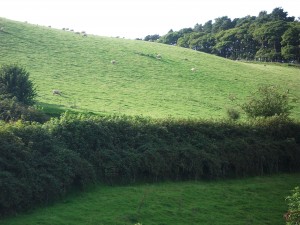 We learned there was an easier, but very steep road, out from the other direction. We drove it up to the plateau and were out of Doone Valley.
The visit has inspired me to give the novel another chance. We survived Doone Valley. After that drive, Lorna Doone's archaic prose should be a breeze.