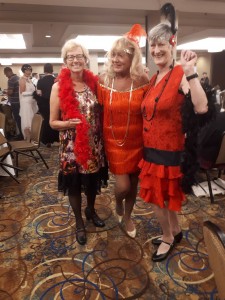 My author blog post on my publisher's website today talks about my favourite readers and writers festival.
Why is When Words Collide my favourite? Here are my top ten reasons.
1. WWC is local, here in Calgary. I don't have to spend money on airfare, hotels and restaurant meals to attend, although I might grab a bite with friends on the hotel's Boomtown pub patio.
2. Not only local, WWC takes place close to my home. The festival hotel, the Delta Calgary South, is about a 15 minute walk or short drive away. I can come home for dinner or a breather from the activities.
3. Being local, I constantly run into people I know at WWC and don't feel out of place.
4. But there are still tons of new people to meet. Writers, readers, editors, publishers and agents from Calgary, other parts of Canada and beyond.
5. I met my publisher at WWC: Jude Pittman of BWL Ltd.
6.. The Energy. This is what impressed me the most at my first WWC, the inaugural year of 2011.
7. The opportunity to promote and sell my books. Any registrant can volunteer to sit on a panel or do a presentation, and sell their books in the merchant's corner, either on the shared author's table, a table they or their group rent or through Owl's Nest Books, the official bookseller.
8. It's fun. The banquet photo above says it all and it's not unusual to see people dressed in various costumes during the daytime. The year that author Diana Gabaldon was a Festival Guest of Honour a man showed up at her session wearing a kilt, in homage to her novel hero Scottish nationalist Jamie.
9. Learning. I've been around writing a long time and still learn more about writing and selling books at the many panels and presentations I attend.
10. The registration cost is $45-$60 ($30-$40 for seniors and students) for three full days and two evenings of programming. I can't resist a bargain!