On my publisher's website today, you can read my blog post about how hoarding inspired my mystery novel. As research for Ten Days in Summer, I watched a couple of episodes of the TV show Hoarders.  It baffles me that people can enjoy such programs.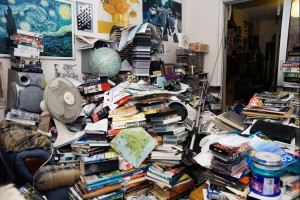 Perhaps, for me, the show is too close to home.
My mother was far from a hoarder, but she had that inclination. I have it too, but less than she did–touch wood, if you can find a spot of wood floor in this picture (it's not my home, although the old globe and fan look familiar).
For more research, I read a book about hoarding and wasn't surprised to learn that procrastination is a common hoarder trait. More surprising, to me, was another characteristic: perfectionism. For example, the book noted, a person collects stuff with the intention of recycling it. But rather than just throw the stuff in a bin, as most people would, a hoarder must recycle it perfectly. The more the stuff accumulates, the more difficult it becomes to get it right and the more he puts off taking care of it.
This reminded me of me of my mother's newspapers, which occupied a large part of her garage. Every day, when she finished reading the paper, she would fold the sections neatly back into place and add the newspaper to her latest pile. When the stack was high enough, she'd tie a cord around it and transfer it to the garage. This was before the days of curbside recycling collection, so her next step would be to decide on the best method of disposal.
After my first travel article was published in  The Montreal Gazette newspaper, I wanted to query the editor with more ideas. I realized it would help to know what locales had already been covered in recent issues and refresh myself on the newspaper's travel writing style. I didn't have the Internet back then, so I asked my mother if she had any old Saturday Gazettes around. She directed me to her garage.
There I found every Montreal Gazette newspaper going back to a couple years. I leafed through the neat stacks, no doubt messing up my mother's work, and picked out all the Saturday issues. For me, they were gold. I took them home and devoured week after week of Gazette travel sections, sent the editor a query and secured my second travel feature. Later, I got a third and fourth.
In case I ever wanted to try for a 5th Gazette article, I kept all the travel sections in a box, which I brought with me from Montreal when I moved to Calgary 21 years ago.  After all, this was a company move and I didn't have to pay to transport stuff. A  few years later, I queried The Gazette editor again. He said he remembered me fondly and wondered what had happened to me, but turned my idea down. I've since heard, sadly, that he died.
The box of travel sections is still in my basement. I'll probably never read them again and really should throw them out.
And I will, one of these days, when I get around to it.