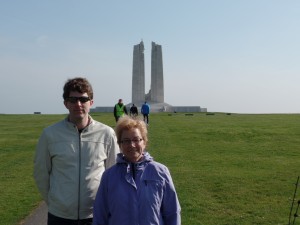 From April 9-12, 1917 the WWI Battle of Vimy Ridge took place. A largely Canadian army captured the German-held escarpment in rural France, today a 2 hour drive north of Paris, and forced a German retreat. This week's newspaper accounts of the 100 year anniversary of that decisive battle have reminded me of my trip there with my husband and son Matt two years ago, almost to the date.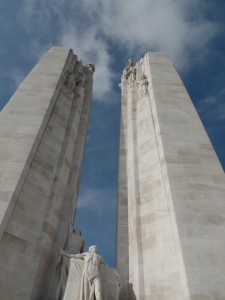 In the Vimy visitor's centre we learned that in 1922, France granted Canada perpetual use of a section of land at Vimy Ridge for a memorial and battlefield park featuring wartime tunnels, trenches, craters and unexploded munitions. Large areas are closed for public safety, although we were able to explore some trenches and a section of a tunnel.  Nearby is a soldiers' grave yard.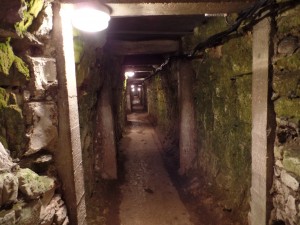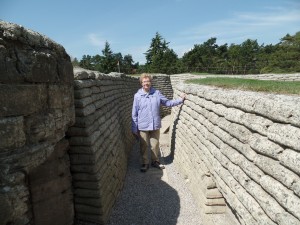 The memorial took 11 years to build and was unveiled in 1936 by King Edward VIII, attended by the president of France, Albert Lebrun, and over 50,000 Canadian and French veterans and their families.
Toronto architect and sculptor, Walter Seymour Allward, who designed the memorial, described it as a "sermon against the futility of war."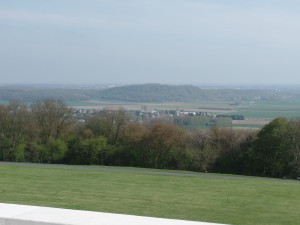 The Canadian Corps captured most of Vimy Ridge on April 9th, the first day of the attack. On April 9, 2007, the 90th anniversary of the battle, Queen Elizabeth II rededicated the monument, following a major restoration project, which included general cleaning and the recarving of many inscribed names.
Veterans Affairs Canada maintains the Vimy Memorial and other Canadian war memorial sites in France. Canadian students can get postings at these visitors' centres, a great educational and travel opportunity for them. I found that talking to the young guides felt like being in a piece of Canada in France.
This Sunday, April 9, 2017,  Canada will honour the fallen soldiers and the 100th anniversary of the Battle of Vimy Ridge with a commemoration ceremony at the memorial. Attending dignitaries include Canadian Prime Minister Justin Trudeau and Governor General David Johnston, President of France Francois Hollande and Prince Charles, Prince William and Prince Harry of the United Kingdom.