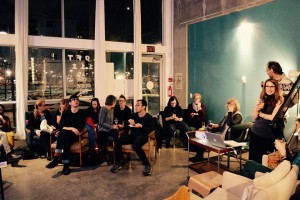 On a warm Friday evening this January, I attended a fun event at Loft 112. Twelve visual artists and nine writers (plus three in absentia) sipped drinks, munched snacks and introduced ourselves and our work.
I described my short story "When a Warm Wind Blows Off the Mountains." Written over ten years ago, the story finally found a home last year at the Loft's October Long Lunch Reading. While guests feasted on roasted red pepper soup, I talked about this 2900-word tale inspired by my many walks on Calgary's Glenmore Reservoir pathway. Two characters at low points in their lives set out from different starting points–Rockyview Hospital and Glenmore Landing Shopping Centre. They walk toward each other, meet on a park bench and share a moment. The connection momentarily lifts them from the depths, like a Chinook in Calgary winter. I like to believe it helps give them strength to deal with their troubles ahead.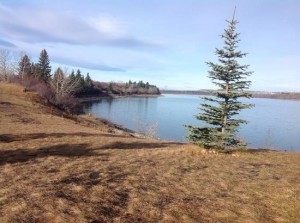 The Loft published the story in handmade chapbooks for each of the October guests. I thought this was it for "Warm Wind" until Lisa Murphy-Lamb, the Loft inspiration and owner, emailed us monthly contributors to say they would be publishing the twelve stories in an anthology called Long Lunch/Quick Reads. The book would be out by the end of the year.
Prior to this, Lisa had told us they were applying for a Canada Council grant to turn the stories into individual art books. She asked if we were interested. I said, "Sure," and sent her the required details. In January, Lisa advised us the grant had succeeded.  She organized the Friday evening meeting for the artists and writers involved. At the end of our presentations, Lisa and her co-conspirators announced the artist/writer pairings.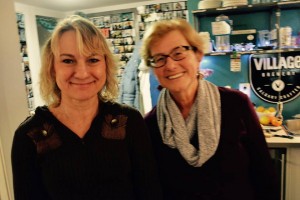 My partner, Sylvia Arthur, is a life-long resident of Forest Lawn, Calgary. She is currently involved in an art project in the  Crowsnest Pass. Sylvia took home a chapbook of "Warm Wind." When I emailed her the digital version the next day, she said she was already thinking of ideas for turning my story into visual art. I am certainly curious to see what she comes up with. Today, I had a look at Sylvia's website, which features drawings she has done to poems. I love her work. Her most recent posts are tributes to Leonard Cohen and her late friend. I am confident "Warm Wind" is in terrific hands.