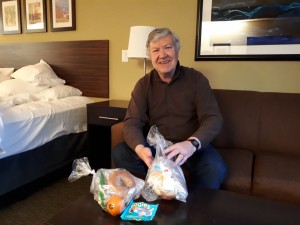 Easter morning, my husband Will and I picked up our breakfast at the motel reception desk. The generous bags included oranges, bagels and muffins, and granola bars that we set aside for later. A package of Easter eggs added a tasty dessert.
We hit the road for day #2 of our drive from Ottawa to Calgary. This is the fourth time we've done this trip and we consider this stretch from Sault Ste. Marie to Thunder Bay the most potentially treacherous. The two lane highway winds, rises and falls around Lake Superior. Weather can be harsh and unpredictable. On our eastbound trip in November, we ran into a snowstorm, which made the driving scary for two hours. It didn't help to see trucks flipped over beside the road. On this return trip, we met fewer trucks than usual and didn't see any overturned.
Today, the road was clear, the sky a mix of sun and cloud that enhanced the changing views. Lake Superior was still partly frozen. Chunks of snow perched on rocks that jutted from the water. I saw paintings in every direction. Plaques along the road call this section The Group of Seven Highway.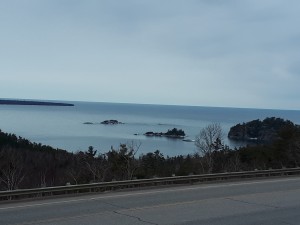 Will and I have two must-stops on the route. The first is the Winnie-the-Pooh park in the railway town of White River. Displays tell how an army captain, en route to Europe in 1914, bought a bear cub from a local hunter and named the cub Winnie after his home city, Winnipeg. He brought the bear with him overseas to England. When he left to fight in France, he donated the cub to the London Zoo. Winnie became popular with zoo visitors, including author A. A. Milne's son, Christopher Robin, who named his teddy bear after Winnie. This rest is Winnie-the-Pooh history. It's safe to say that none of this story could happen in today's more protective age.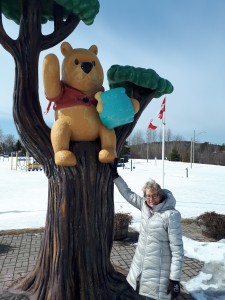 Will and I would have eaten our lunch in Winnie's park, if it wasn't cold and the picnic tables weren't snow covered. Instead, we drove into the resort town of Marathon for a car picnic at the beach. We discovered the playground and beach were closed due to COVID-19, but we could still park for a glimpse of the water.
Our second must-stop is the Terry Fox Memorial in Thunder Bay.  The monument is located a few miles past the spot where Terry Fox was forced to give up his run across Canada when his cancer returned and spread. He died less than a year later.  His memorial is set on a hill with a superb view of Lake Superior. The site is free to visit and a short stop on a long drive. I'd only skip it if I were in a rush, or caught in driving rain or snow, or if it was closed for a pandemic.  As Will and I approached the turnoff, we expected to find a barrier at the road entrance, like we'd seen at most of the tourist sites and rest areas we'd passed earlier in the day.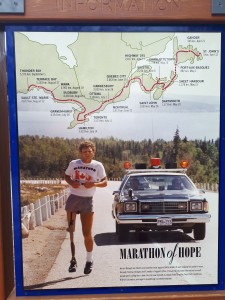 To our surprise, the road curving up the hill was open. The visitor's centre was closed, of course, but several small groups of people gathered around the monument, respectfully keeping their distance from each other. When Will and I studied the display map of Terry's Marathon of Hope, we realized that today, April 12, 2020, was the fortieth anniversary of the start of Terry's run. On April 12, 1980, in St. John's, NFLD, he dipped his foot in the Atlantic Ocean and began his journey west. It ended Sept 1.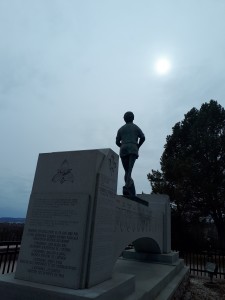 I'm especially glad the monument was open during this pandemic because we need Terry's message of hope. Let's hope that by Sept 1, 2020, larger groups will be able to gather at the memorial to celebrate Terry Fox's courage and inspiration.