On day # 4 of our drive from Ottawa to Calgary, we set out from Winnipeg in sunshine. By now we had our routine down pat. Stop at Tim Hortons mid-morning and/or mid-afternoon for a coffee/tea/hot chocolate/donut and restroom break. Stop at some point for gas and restrooms. The plan never worked exactly right. Some of the gas stations closed their restrooms to customers and we had to find an alternate place. In the outskirts of Regina, usually reliable Tim Hortons was only open for drive-through customers. We went next door to the Esso convenience store, where Will bought a litre of chocolate milk as compensation.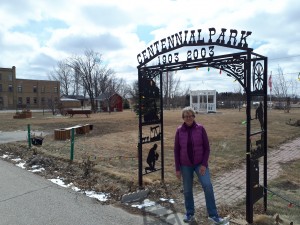 Our lunch routine involved buying a sandwich at Subway, after using their restroom. We usually ordered the 12 ' daily special to share, topped with veggies, with pickles on my half, and then looked for a scenic place for our picnic in the car. Today, we drove into Wapella and parked facing the small town's Centennial Park, which was open to wander through. While it was still too cold to eat at the picnic table, the temperature rose on our way to our 4th night's destination, Moose Jaw. For the first time on this trip, it was warm enough for a comfortable walk outside. Our Moose Jaw hotel backed onto an unfenced golf course. Will asked the reception desk clerk if we were allowed to walk on it.
"I guess so," she said. "Why not?"
"Sometimes there are rules about being in public parks."
"Hmprh," she said. "I hope all this ends in a few weeks."
Don't count on it, we thought.
The next morning, a different reception desk clerk told us she was really glad to see some travellers.
"It's essential travel," I said, not wanting her to think I was doing this for fun.
From my limited experience of small town Manitoba and Saskatchewan, provinces with relatively low COVID rates, I think they're generally following the protocols, but the peoples' hearts aren't in it, since they don't feel personally threatened yet. Will thought the hotel and restaurant clerks in suburban Winnipeg were more relaxed about the rules than their counterparts in Ontario. Our Winnipeg hotel clerk grazed his hand as she passed him our room keys.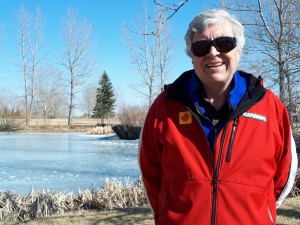 After our pleasant walk on the Moose Jaw golf course, it was time to order dinner. Once again, our first choices of restaurant either didn't answer the phone or their websites said they were temporarily closed due to COVID.  Then, I remembered seeing a Humpty's restaurant across the main street into town.  It turned out to be open for takeout. Will and I easily jay-walked across the street, which would normally be busy at the end of a work day. To honour the rule of minimizing people in restaurants, Will went inside to get our order while I waited in the sunny, empty parking lot.
This was one of many moments, since #stayhome began, that I've felt like a nuclear holocaust survivor, who emerges from her underground shelter to find her city's buildings, streets and playgrounds largely intact, but its people and activity strangely absent.