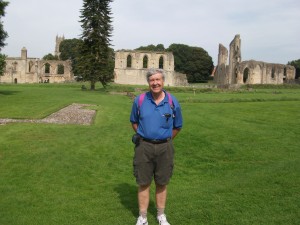 Everyone wants a piece of Arthur. In the Middle Ages, when Glastonbury Abbey faced financial ruin, the monks came up with a clever scheme. They "discovered" the bones of King Arthur and  Lady Guenevere. This attracted public interest and, more importantly, money that saved the abbey. Today, tourists at Glastonbury Abbey can view the burial sites.
Arthur's story was the stuff of much Medieval literature. It was later revived by Romantic and Victorian writers, notably, Tennyson with The Lady of Shalott and Idylls of the King. The story was re-worked for modern times in movies and plays: Disney's The Sword in the Stone, Monty Python and the Holy Grail and Camelot.
Thanks to Camelot, I had formed a pastoral image of Arthur's castle. It's quite the opposite, if Tintagel was the place. This fall, Will and I stopped at Tintagel on our way from Wales to Penzance, in Cornwall. A genuine castle once existed at Tintagel. Now it's ruins. Arthur's castle is rumoured to have preceded it. Whether or not that's true, the setting is gorgeous and wild, with sweeping views – well worth a visit. It's also a rigorous hike up those cliffs.
Camelot simmered and exploded with human passion. Now that I've seen Tintagel, I get it.