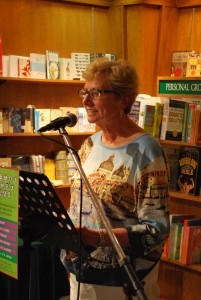 As always, Writing in the Works on Thursday night was a huge success.  This was the 10th edition of WITWorks and I've been there from the start to help organize the event.
This time, I was one of the five readers. I enjoyed sharing my unpublished novel excerpt with the audience that packed Owl's Nest Bookstore in Calgary. It was also great to hear in-the-works readings by of my fellow presenters Rob Bose, Joan Crate, Sarah Johnson and Taylor Lambert. They're an impressive group of writers.
Music by the Central Memorial Stringlets added a touch of class and ushered in the evening. Wine, cheese, fruit, brownies and amazing cookies helped set the mood.
An intriguing Q & A followed the readings. Emcee Elaine Morin began with teaser questions.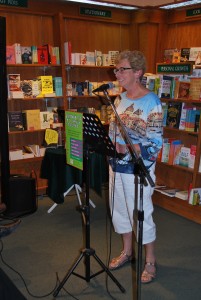 She asked each of us: Which do you prefer Star Wars or Star Trek? Naheed Nenshi or Mahatma Ghandi? Margaret Atwood or Lucy Maud Montgomery?
My answers? Star Trek original series, Ghandi and (with some struggle) Lucy Maud, in memory of my childhood.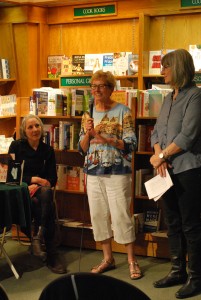 Then came the serious questions:
Since WITWorks is all about sharing works in progress, at which point do you share or discuss your project with someone?
How inappropriate, scary, or uncomfortable are you willing to get in your writing? Is there some places you won't go? Do people have to die before you'll write about certain things?
Is there a genre you would never write? If so, what is it?
Which question do you wish people would ask you about your work?
Joan came up with the best answer for the last question: Can I buy your book?
As for the other questions, there's so much scope I might grab them for topics for future blog posts.