I'm back from a terrific trip to Nova Scotia, New Brunswick and Ontario. The highlight was my son's wedding on June 13 in Toronto. The day was wonderful from start to finish and filled with memorable moments for a loving mom.
After the wedding and associated festivities, Will and I spent time visiting friends in the area. Knowing that Will is a baseball fan, our Kitchener friends suggested a day trip to St. Mary's to visit the Canadian Baseball Hall of Fame and Museum. I confess, before this I hadn't known that either St. Mary's or the Canadian Hall existed.
As it happened, this was the day before induction weekend. Former players and announcers were due to arrive that night for some exhibition innings. Unfortunately, we couldn't stay for that, but we were able to tour the hall, an old home packed with Expos, Blue Jays and other baseball memorabilia. Now I know what a home plate looks like.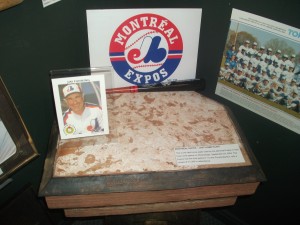 Our enthusiastic guide through the museum was Kevin Glew, a writer working part time at the museum this summer. Kevin and I traded business cards and writing stories. You never know where you'll find a kindred spirit. Canadian baseball fans will want to check out Kevin's website.