… after a 40 day holiday to Austria, the Czech Republic and Toronto. When I left, the trees in my yard were barely budding.  I returned to summer bloom – and mosquitoes.
After such a long time away, I'm eager to return to writing. Calgary's June rains (plus the bugs) might help tie me to my computer and writing room, although I don't want to miss our short summer weather. My priority, for the next month, will be enjoying the warm air and blue skies, getting exercise and healthy eating. I managed a fair bit of the first ones on the holiday, but couldn't resist gorging on Austrian and Czech pastries, schnitzel and dumplings, among other arterty-choking cuisine, and inexpensive wine and beer.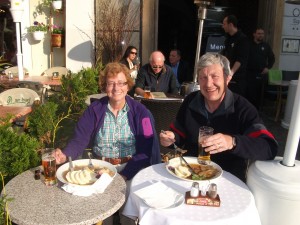 A look at my blog, shows I haven't posted since January. Yikes. Last winter and spring, I was focused on finishing the third draft of a new novel before leaving on the trip and let the blog slide. I'll get back to it during this more relaxed summer period. Tune in for some travel-related posts.