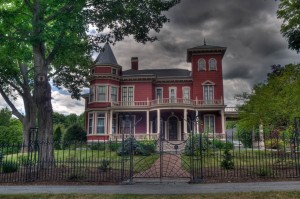 In my interview with Randy Luckie, we talk about a wide range of writing subjects including my new novel, my mystery series, short stories, getting published, Stephen King, and murder by bee sting.
As an aside to the interview, I have stalked Stephen King's home in Bangor, Maine, a couple of times. I grew up in Montreal and every summer my family drove through Maine to my grandparents' home in New Brunswick, Canada. Our route went through Bangor, where we sometimes spent the night. When I was older, I continued to make the trek with my husband every couple of years.
When we learned that Stephen King lived in Bangor, on one of those drives we stopped at a local bookstore to ask where the author lived. The store owner didn't hesitate to give us directions to the house. I believe the owner talked about seeing King often at his sons' baseball games.
During subsequent trips through Maine to New Brunswick, we made at least one more detour to King's house. I found it suitably ominous-looking for the master of horror.
I was also impressed that one of North America's most successful authors made his home in down-home Bangor.