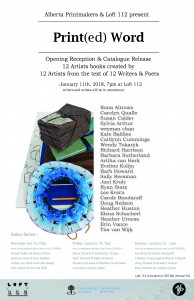 Happy New Year!
The holiday season was a cold one in Calgary, good for staying inside. I'll be getting out soon to some writing events, starting with the January 11th launch of Loft 112's Print(ed) Word Project. My short story "When a Warm Wind Blows off the Mountains" is privileged to be included in this creative and original collection.
Then, on Saturday, Jan 13th, 7:00 pm, I'll participate in the first Loft Salon featuring artists and writers involved in the project. I'll read from "Warm Wind" and my artist partner, Sylvia Arthur, will discuss how she turned my story into a work of art.
For more details, visit the Loft 112 Facebook page.
I wish you a happy and healthy 2018.