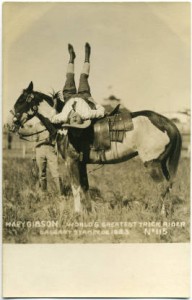 I'm gearing up for my first event of the Calgary Stampede season Side-saddled: Local Writers Take on the Stampede. I'll be reading from my novel Ten Days in Summer, set during the Stampede, and chatting with local authors Aritha van Herk, Emily Ursuliak, Kris Demeanor and emcee Shaun Hunter about all things Stampede.
The event takes place  Thursday, June 29 at 7 PM – 8:30 PM, in Memorial Park Library's lovely second floor presentation room, 1221 2 Street SW, Calgary.
You can register on the Calgary Public Library's website, but this isn't necessary.