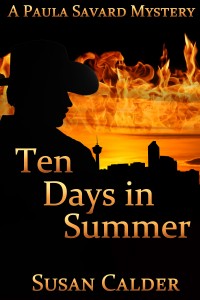 Ten Days in Summer is now available in Canada in paperback and ebook form. You can also order the book through
Amazon and your favourite independent book store.
One of my favourites, Owl's Nest Bookstore, will be hosting the Ten Days in Summer Book Launch on Tuesday, March 14, 7:00-8:30 p.m. Britannia Shopping Plaza on Elbow Drive at 49th Avenue. 815A 49th Avenue SW, Calgary
I'm busy sending out invitations to the launch and arranging book signings at other Calgary stores. So far, I've lined up:
Chapters Shawnessy, 16061 Macleod Trail SE, Saturday, March 25, 2017, 11:00 am – 5 pm
Chapters Chinook, Chinook Mall, 6455 Macleod Trail, Suite L1, Friday, March 31, 2017 12:00 pm – 4:00 pm
Chapters Macleod Trail, 9631 Macleod Trail SW, and Indigo Shepard Regional Centre, #170 – 4916 – 130th Ave, SE, Calgary will set dates when they receive their book orders.
Crime Writers of Canada asked me to write a teaser and 50-60 word blurb for their next issue of Cool Canadian Crime. Here's what I came up with:
Teaser:  While Calgary, Alberta, celebrates its ten-day Stampede festival, insurance adjuster Paula Savard investigates a suspicious building fire that caused the death of a hoarder.
The blurb continues with: The case turns personal when Paula's daughter becomes involved with a suspect. To ensure her daughter's safety, Paula must dig through the hoarder's messy life. She unearths betrayal, family secrets and murder.
Ten Days is on its way!