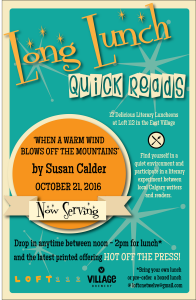 I'm thrilled to have my short story selected for this month's Long Lunch Quick Reads, at Loft 112, 535-8 Avenue # 112, in the East Village. The event takes places Friday, Oct 21, noon-2:00 PM.
Never been before? Here's what to expect:
1) a beautiful chapbook to read on site and then to take home
2) a chance to sit and read in a cozy, light filled space with other readers reading the same story
3) opportunity to discuss the story
4) insight into this new writing
5)Lunch! Your own or pre-order from us @ loftonetwelve@gmail.com $10 gets you fed and contributes to the Loft's Pay-A-Writer Fund
6) Coffee, tea and Village beer
*
Loft 112 is commercial space + loft apartment that serves as a centre for writers and artists of all kinds from the Calgary literary, arts, creative and academic community; a creative hive where ideas are given space to develop, a place where established and emerging writers, readers and artists are supported, a place where unheard voices are given a platform and a place of collaboration.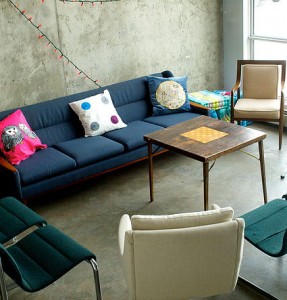 I hope you'll join us on Oct 21 for a fun lunch and chat.