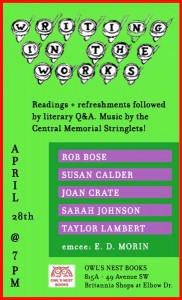 I'm fortunate to be participating in two readings at the end of April. The Arthur Ellis Shortlist event arrives first – on April 21st – where I get to host the mayhem and try to keep those wild crime writers in line.
A week later, on April 28th,  I'll be reading at Writing in the Works, which features writing-in-progress, works seeking publication and works about to be published. After the readings, we'll participate in a roundtable discussion on the creative process. Emcee Elaine Morin also promises a few questions just for fun.
This will be the 10th installment of Writing in the Works. Over the years, we've showcased many up-an-coming Calgary writers. I'm proud to say I'm a founding member. The most fun is meeting the other fine women at Original Joes restaurant to brainstorm the next Writing in the Works event.