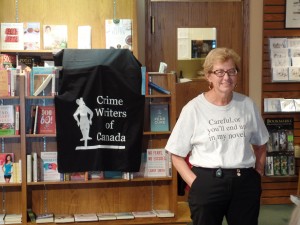 On Thursday, April 21, I had the pleasure of hosting the Crime Writers of Canada Arthur Ellis Awards for Excellence in Canadian Crime writing.
Four fellow CWC members participated: Jayne Barnard, Eileen Bell (from Edmonton), Dwayne Clayden and Axel Howerton.
Axel began by warming up the audience with magic tricks that involved thumb cuffs and a toy gun that I shot.
Dwayne explained what the Arthurs are about. They got their name from the pseudonym of Canada's Official Hangman and over the years have been won by such illustrious writers as Eric Wright, Gail Bowen and Margaret Atwood.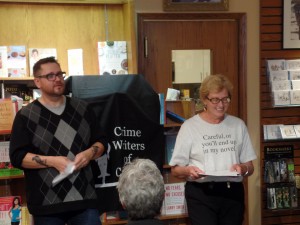 Through the evening, we took turns reading the shortlists for the eight Arthur categories. Eileen, Jayne, Axel and Dwayne shared short readings from their writing. We all engaged in a spirited and honest discussion of Writing Contests and Awards: the Good, Bad & Ugly.
Only Axel and I knew the shortlisted authors names in advance. We saved the category with a winner present for last, unaware that a second winner in the same category was in the audience. What a treat and a splendid ending to a fun night.