Relatives and friends, hearing and viewing reports about the Calgary flood, have been calling and e-mailing to ask if we're okay.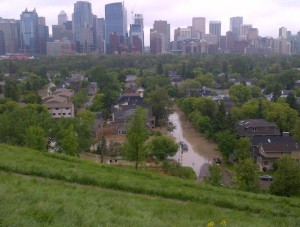 We live fairly high-up from the river and have escaped the flood's effects – so far. Life, for us, functions normally, aside from cancelled events and inconveniences.  My heart goes out to the numerous southern Alberta residents forced to evacuate, those with flood-damaged property and, most of all, the loved ones of people who lost their lives in High River.
While we feel somewhat like outsiders to this local disaster, Will and I can understand. This is the third major flood we've experienced in less than year, in three separate world locations.
The first one, which impacted us most, was last fall's flood in York, UK. Prior to the trip, we booked an apartment along the river for five nights. It came with bicycles and we had visions of biking along the river pathway, as well as making day trips to sites outside of town, such as Castle Howard, the grand estate where  the TV series Brideshead Revisited was filmed. None of that happend.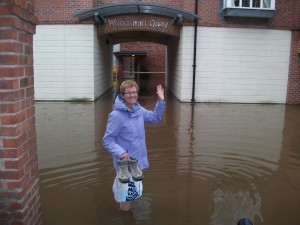 After several days of torrential rain, the river spilled over the pathway and rose up buildings that now looked like homes in Venice. Water filled our apartment building courtyard, the only access in and out.  Our worst morning in York, we waded through murky, thigh-high water dressed in our bathing suits, ducked into a public washroom and changed into our street clothes.
Last month, when I left for a holiday in Austria and the Czech Republic, I joked that I hoped a flood wouldn't hit us again. It did, during the final week of our trip, in Prague, following five days of heavy rain. As in Calgary, the country declared a state of emergency and called in the army. Soldiers erected flood walls and sandbagged threatened areas and buildings. One block from our house, we stepped over barricades to go to our favourite bakery. Subway lines were closed, as were city parks due to the risk of trees falling due to soggy ground. This resulted in us changing several sight-seeing plans and prevented us from making a day-trip to Terezin, to view the concentration camp, because the routes to the town were under water and Terezin was evacuated. Instead of evenings spent strolling the iconic Charles Bridge – it was closed – we joined the multitude of tourists and locals photographing the swollen river. Water rushing over paths and parks made us glad to be distant from the flood's worst effects.