On Thursday, April 11th, I'll be hosting a reading at Memorial Park Library. Here are the details:
Writing In The Works 2013
Five Calgary writers will read from:
books in progress
books coming out soon
books on the prowl for publishers
Readings by:
Ken Cameron
Lori Hahnel
Steve Passey
Inge Trueman
Roberta Rees
Emcee Susan Calder
Thursday, Apr. 11
7:00 p.m.
Memorial Park Library
1221 2 St SW
Calgary
Free event, refreshments.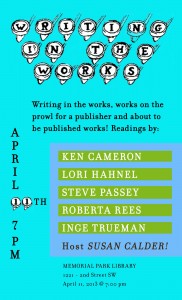 Hope to see you there!